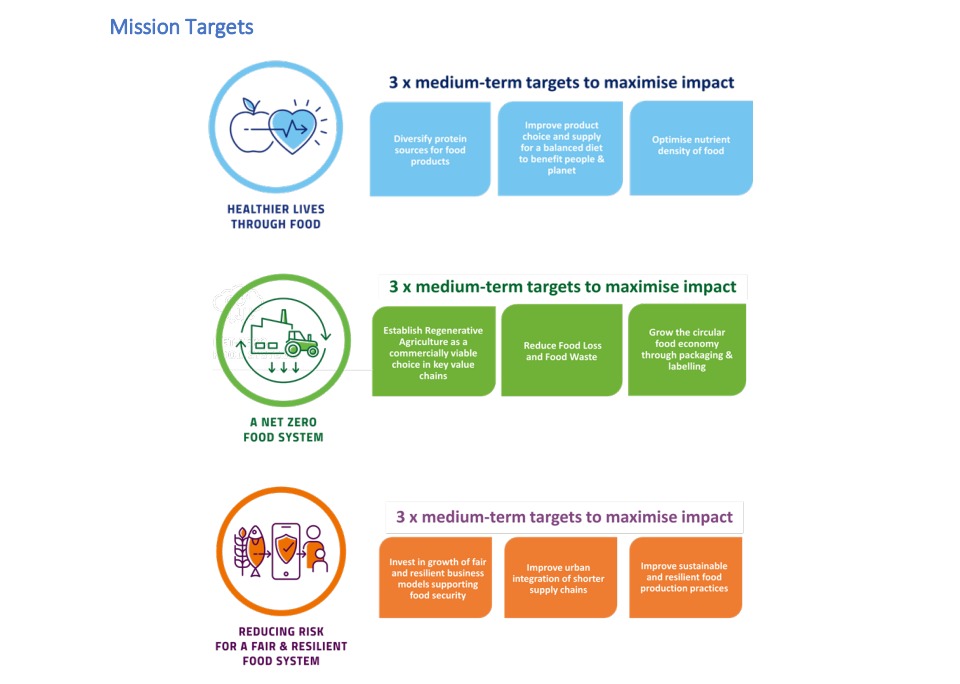 EIT Food already runs a significant portfolio of funding activity, regional community engagement and "Infrastructure Programmes". These programmes help to focus effort and support positive impact in areas such as: knowledge exchange capability building; entrepreneur development; new business growth and investment; skills and education provision; public engagement; and innovation management. We welcome proposals to form new collaborative programmes that build upon, link and amplify these capabilities., and give us new routes and approaches to achieve even more impact in these areas in line with Mission Targets.
EIT food is looking to fund and co-resource alliances and collaborative programmes which aim to produce multiple results and high-impact outcomes that connect activities and workstreams across economic, industry and social value chains.
Examples of actions we could support to achieve our Mission Targets might include:
co-funding open competitions aimed at accelerating new business, products and processes
jointly funding, co-resourcing and/or co-delivering programmes of activities with other funders, NGOs or charities with shared impact goals
co-ordinating consortia across whole value-chains to scale-up, demonstrate and/or accelerate impact of innovation solutions from the EIT Food project portfolio
jointly supporting innovation and knowledge exchange clusters that deliver new programmes in citizen engagement, business, skills and agri-food innovation in cities/ regions or specialist sectors.
co-funding social enterprise or education programmes that will scale-up interventions, leading to improved outcomes for populations at risk of poor health or food security outcomes supporting the development of networks to test production/manufacturing capabilities for key markets, test farms/services and "living labs" delivering programmes
collaborative programmes resolving sector-relevant strategic issues to enable stronger progress towards meeting Mission Targets. This may include intersecting areas such as: standards setting and data management; fundraising for systems change; citizen engagement in innovation; consumer behaviour change and improving public understanding of the benefits of innovation in agri-food.
Total programme external grant and contracting budgets will be likely to fall between €250,000- €750,000 per year in line with the ambition of this call to accelerate systems change and impact at scale. EIT Food will reimburse up to 70% of total eligible grant and contracting costs of a programme budget.